During winter months, cold and ice may result in inaccurate real-time tide elevation data. Adjustments or deletions of this data can only be done after detailed analysis.
Funding for this site is provided by:

New Jersey Department of Law & Public Safety

Cooperative Water Program
SURFACE-WATER RECORDS
LOCATION.--
Lat 39°13'57", long 75°01'58" referenced to North American Datum of 1983, Commercial Township, Cumberland County, NJ, Hydrologic Unit 02040206, on four-pile structure adjacent to dock at Long Reach Marina in Bivalve, 1.1 mi south of Port Norris, and 1.4 mi northeast of Delaware Bay.
PERIOD OF RECORD.--
Annual maximum tide, October 1964 to September 1985. Unpublished fragmentary gage-height record, May 1997 to February 2000. Continuous-record tide gage, March 2000 to current year.
GAGE.--
Tide elevation and water temperature recorder with telemetry and tidal crest-stage gage. Datum of gage is at 0.00 ft NAVD of 1988. To determine approximate elevations to NGVD of 1929, add 1.20 ft. From October 1964 to September 1985, crest-stage gage located 0.3 mi downstream at datum 0.00 ft NGVD of 1929. Data published to NGVD of 1929 can be adjusted to NAVD of 1988 by subtracting 1.20 ft. Online annual tidal peaks have been adjusted to present datum.
REMARKS.--
Gage cannot measure tide elevation below -5.05 ft or above 5.20 ft. Tide elevations below -5.05 ft and above 5.20 ft have been estimated. Periods of missing data are noted by dashed (---) lines.
EXTREMES FOR PERIOD OF RECORD.--
Maximum elevation, 7.03 ft, Oct 29, 2012, from crest-stage gage; minimum elevation, estimated,-5.8 ft, Mar 9-10, 2008 and Jan 9, 2009, although a lower tide elevation likely occurred during the period of missing record on Feb 17, 2007.
EXTREMES OUTSIDE PERIOD OF RECORD.--
Maximum elevation known, 6.6 ft, adjusted to present datum, Nov 25, 1950, from high-water marks at East Point near the mouth of the Maurice River based on data published in the Corps of Engineers' report "Flood Plain Information, Tidal Lands and The Maurice River, Cumberland County, New Jersey" published Dec 1968.
Peak Flood Chart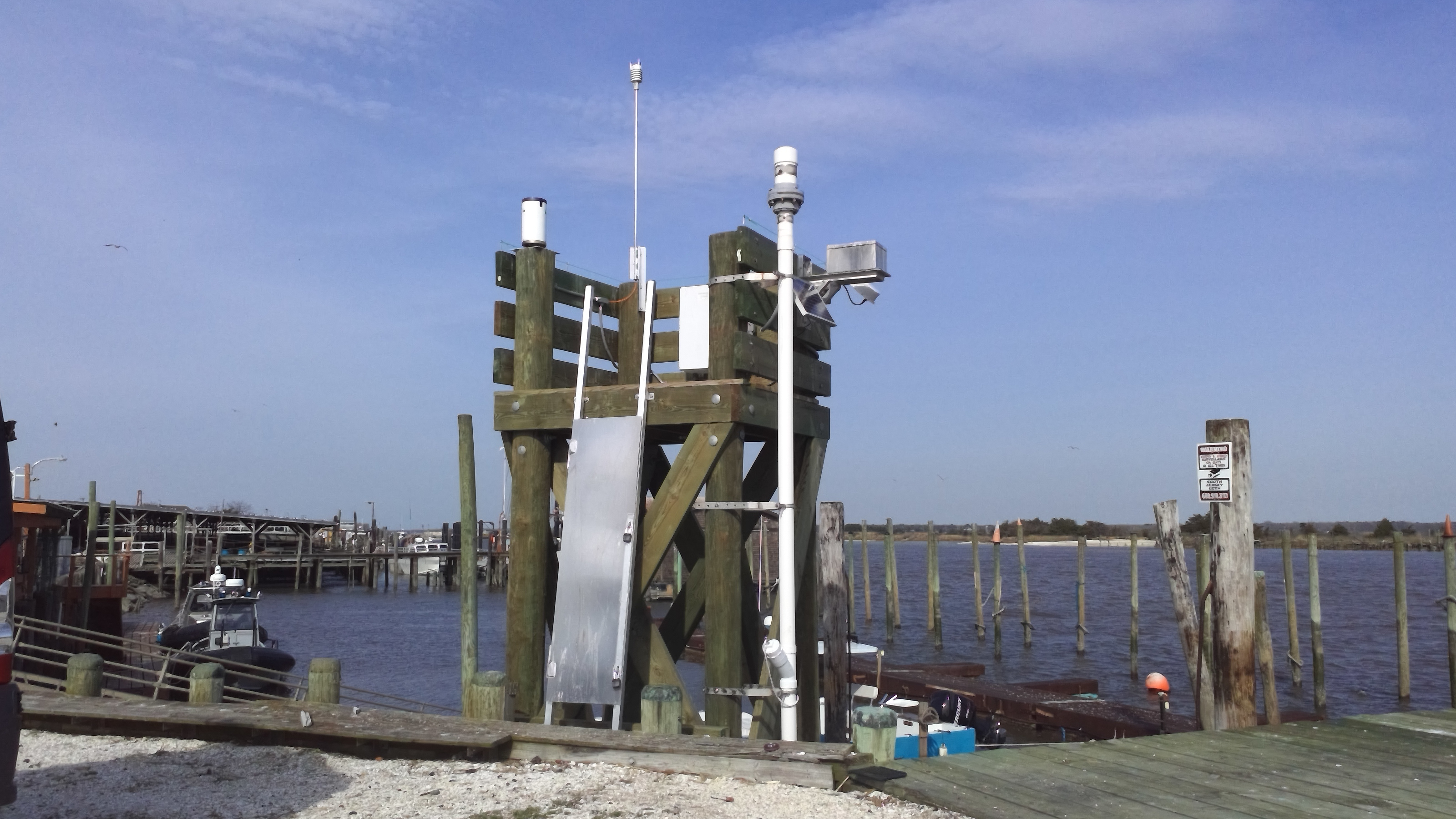 Weather station data are available from this location at this link.
The water temperature data for this station are temporary and will only be displayed for 120 days. Although the instrumentation is calibrated at least once/year, the temporary classification means that documented routine inspections and other quality assurance measures are not performed that would make the data acceptable for archival, retrieval, or future use in general scientific or interpretive studies.