Funding for this site is provided by: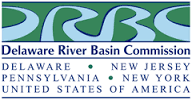 Delaware River Basin Commission
STATION.
--01475850 CRUM CREEK NEAR NEWTOWN SQUARE, PA
LOCATION.
--Lat 39`58'35", long 75`26'13", Delaware County, Hydrologic Unit 02040202, at Castle Rock bridge on State Highway 3, 0.6 mi upstream from Preston Run, 0.8 mi upstream from Springton Reservoir, and 2.0 mi west of Newtown Square.
DRAINAGE AREA.
--15.8 square miles.
PERIOD OF RECORD.
--October 1981 to current year. Occasional low-flow measurements, water years 1932, 1949, 1970-1977, and annual maximum 1977-1981.
GAGE.
--Water-stage recorder and crest-stage gage. Datum of gage is 207.75 ft above National Geodetic Vertical Datum of 1929.
COOPERATION.
--Funding for the operation of this station is provided by the Delaware River Basin Commission.
GAGE HEIGHTS OF IMPORTANCE
.-
Supplied by USGS
: Maximum recordable gage height (stage sensor operational limit) - 18.8 ft; Data transmitter operational limit - 19.5 ft;
Supplied by NWS
: No flood stage has been determined for this station.