Funding for this site is provided by: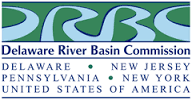 Delaware River Basin Commission
STATION.
--01476480 RIDLEY CREEK AT MEDIA, PA
LOCATION.
--Lat 39`54'58", long 75`24'13", Delaware County, Hydrologic Unit 02040202, on right bank 400 ft downstream from bridge on U.S. Highway 1 (Baltimore Pike) at Media.
DRAINAGE AREA.
--30.5 square miles.
PERIOD OF RECORD.
--October 1986 to September 1995, October 1995 to December 1996 (fragmentary), January 1997 to current year.
GAGE.
--Water-stage recorder and crest-stage gage. Datum of gage is 110 ft above National Geodetic Vertical Datum of 1929, from topographic map. Satellite telemetry at station.
COOPERATION.
--Funding for the operation of this station is provided by the Delaware River Basin Commission.