Funding for this site is provided by: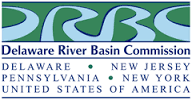 Delaware River Basin Commission
STATION.
--01472198 PERKIOMEN CREEK AT EAST GREENVILLE, PA
LOCATION.
--Lat 40`23'38", long 75`30'57", Montgomery County, Hydrologic Unit 02040203, on right bank 100 ft upstream from bridge on Church Road, 0.9 mi upstream from Molasses Creek, and 1.0 mi southwest of East Greenville.
DRAINAGE AREA.
--38.0 square miles.
PERIOD OF RECORD.
--October 1981 to current year.
GAGE.
--Water-stage recorder, crest-stage gage, and concrete control. Datum of gage is 288.50 ft above National Geodetic Vertical Datum of 1929. Satellite and land-line telemetry at station.
COOPERATION.
--Funding for the operation of this station is provided by the Delaware River Basin Commission.
GAGE HEIGHTS OF IMPORTANCE
.-
Supplied by USGS
: Maximum recordable gage height (stage sensor operational limit) - 18.5 ft; Data transmitter operational limit - 22.1 ft;
Supplied by NWS
: Action stage-3 ft; Flood stage-4 ft, at 4.25 ft, Water Street is closed between Rte 29 and State Street; Moderate flood stage-7 ft; Major flood stage-9 ft.