Funding for this site is provided by: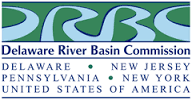 Delaware River Basin Commission
STATION.
--01440485 SWIFTWATER CREEK AT SWIFTWATER, PA
LOCATION.
--Lat 41`05'38", long 75`19'21", Monroe County, Hydrologic Unit 02040104, on left bank at Aventis Pasteur Laboratories complex, at Discovery Drive in Swiftwater, Pocono Township, and 3.0 mi above mouth.
DRAINAGE AREA.
--6.59 square miles.
PERIOD OF RECORD.
--September 1994 to April 2001 (measurements only); April 2001 to current year.
GAGE.
--Water-stage recorder. Datum of gage is 1,114.73 ft above National Geodetic Vertical Datum of 1929. Prior to Apr. 18, 2001, non-recording gage at site 500 ft downstream (datum undetermined). Satellite and landline telemetry at station.
COOPERATION.
--Funding for the operation of this station is provided by the Delaware River Basin Commission.