Funding for this site is provided by: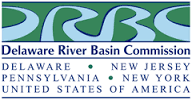 Delaware River Basin Commission
>
STATION.
--01472199 WEST BRANCH PERKIOMEN CREEK AT HILLEGASS, PA
LOCATION.
--Lat 40`22'26", long 75`31'22", Montgomery County, Hydrologic Unit 02040203, on left bank 0.3 mi downstream from bridge on private road, and 0.5 mi north of Hillegass.
DRAINAGE AREA.
--23.0 square miles.
PERIOD OF RECORD.
--October 1981 to current year. Prior to October 1992, published as "Northwest Branch".
GAGE.
--Water-stage recorder and crest-stage gage. Prior to February 24, 2022, gage included broad-crested concrete control. Datum of gage is 290.00 ft above National Geodetic Vertical Datum of 1929. Satellite telemetry at station.
COOPERATION.
--Funding for the operation of this station is provided by the Delaware River Basin Commission.
GAGE HEIGHTS OF IMPORTANCE
.-
Supplied by USGS
: Maximum recordable gage height (stage sensor operational limit) - 13.2 ft; Data transmitter operational limit - 17.2 ft;
Supplied by NWS
: Action stage-4 ft; Flood stage-5 ft; Moderate flood stage-6 ft; Major flood stage-8 ft.